How to give positive reinforcement and how to react if students breaking rules
By Carola Deinet-Knittel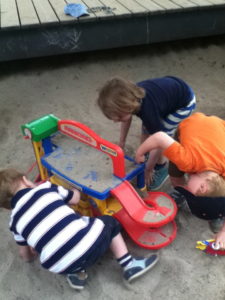 Positive reinforcement is a very important way to improve a student's behavior and learning, and also to deepen their self-confidence.
During my teaching career I have always had some children that needed more attention than their classmates, have been more restless, aggressive, needy than others. And as a teacher you learn step by step to get an idea how to 'get them on track'- as you realise that otherwise teaching will become more difficult in class.
I have had students from 3 up to 13 years so far. In Germany there are educators who take care of students before/after school, as often school finishes at 1 ish pm. Since a few years ago there has been a change in childcare, so more students are taken under a teacher's wings than a few years before. Also, there is much more time spent on "after school activities" around school what has become a very engaging way to effectively support the children in being with their classmates.
I would like to give a few examples how I have interacted with children having difficulties in being with others (behavior wise, needy, aggressive potential, etc.)
Having a boy in class who likes hitting a lot:
I first have a closer look at his behavior, take some notes, when aggression shows up, and related to withitness might see it coming (depending on time, schedule, being exhausted, being tired, for example). I gently try to have him around me, doing some activities together with him to keep him engaged, praise him if there is any kind of positive effect, such as: "You are a real constructor today. Your tower you've been working on looks very impressive!" Also, one-to-one correspondence is often needed to get the child's positive action. If hitting, pushing, starts there will be an immediate reaction following, such as direct appeal. I will stand next to the child, keep him away in a kind of way the students in class are not aware of (otherwise he might be in a negative 'drawer' related to his behavior), and I also signalize: 'I am the person that sets clear borders'.
Borders in class I always discuss with my students, -I call these borders 'agreements', such as be kind with one another, keep your hands to yourself, raise your hand if you like to speak during circle time, etc. With the children there will be group discussions. The children and I talk about what happens if these agreements won't be fulfilled, or not respected. To make it visible, I take a mind map collecting what about their ideas if the rules, procedures will be not accepted. Then the children/teacher take photographs related to a specific agreement (for example: Me 'pulling, pushing' another teacher: this picture is "red crossed", next to this picture a photo related to the agreement: "We are kind" showing two children helping each other to get dressed). These aspects on our mind map are hung up on our classroom wall -being obviously for everybody. Also, the main aspect is translated into students' Mother tongue, as the parents also can translate this important agreement.
Back to my first case:
If the boy breaks these, there will be further steps we as a class have decided as a follow-up: that means, the boy needs to learn to reflect on his behavior issues, as there will be another step set he might not like, such as not participating in the next library session if disturbing the slot. Also, I have constant discussions with angry, screaming and shouting students that don't like to get dressed in their puddle pants for outside recess if it rains! But the agreement is: no outside recess -if you are not properly dressed. It might take a few days (maybe a week) until a misbehaving young student realizes –the teacher won't let me be outside, if it rains. She likes to protect me from getting sick in wet clothes. Most of these issues are also discussed in the afternoons during key group time. Reflection (even with the youngest students) is a great tool to avoid stress in class, as the children realize that they are taken seriously. Also, related to any misbehavior we do read stories related to the topic.
For example, just this last week there was an English speaking boy (4 ½ years old, Indian background) screaming for about 15 minutes because it was time to tidy up the play dough area. He started hitting the teacher, too. I needed to react immediately: I took him aside from the others, so no one could point at him, and brought him to an area called the 'calm space': there a bear is sitting on a chair waiting for someone who is upset. I placed the screaming student there, gave him the teddy into his hands, and left him a bit. After a short while (I always could see the boy sitting there!), I went back (2 minutes), and started talking: 'I am here if you get calmer. Hold the bear, he might help you.'
It usually works if students get used to this routine (I also talked about this to our school psychologists). After a while I was able to talk to the boy again, telling him it was necessary to tidy up because there was a new lesson starting, such as language-time. I also repeated our classroom-agreement, be kind with one another, keep your hands to yourself, and explained what will happen if he don't do so. We as a class (3-5 year old children!) agreed on the person need to apologize by saying: "Sorry," drawing a picture to make someone happy again or holding hands with the one that got hurt. Also, there is another way to say loud: "Stop! I don't like this!' With this sentence we encourage our young learners in showing self-confidence if being attacked by another student. This time, the boy really calmed down, couldn't apologize but being held by the teacher's hand together with her went tidying up, holding the brush and broom together, got finished in time and went for the next lesson calm again. In the afternoon I read a story titled:" If you are angry, and you know it…" (being recommended by our psychologist!) Finally, I asked the group whether there was someone who had this feeling once. Nobody reacted. I asked the boy whether he might remember some, and –he did. I explained that it is okay to feel angry, and also that it is okay to say: Sorry and think how to find a solution, such as tidying up quickly to be ready for the next lesson. The boy tidied up the next day very well.
To keep children focused on positive behavior I also try to mention positive behavior of students a lot, but it needs to be not only honored but also mentioned in a way that the children feel my honesty. If being identical the students realize me being the support of their positive behavior.
For example, last week has been the start of our settling-in procedure at our school for the new academic year. My colleagues and I had 22 new students settle into the Early Years area (3 to 5 year old ones!), what could be challenging sometimes.
During the afternoon circle time with the key group students I reflected on our first week, talking about what went well, what they liked a lot, what they didn't like so much, etc. In my opinion there existed quite a good classroom atmosphere, what lead me to do the following:
Usually I praise and positively support my students by using words, or also by giving feedback to their parents after school, if there was something that really went well. This afternoon I went to my desk, got small glittery stickers and shared them with my students who were thrilled.
I said that this special treat was something I don't use very often, but if I take it they all can be sure they did an outstanding job. All of the children felt positively and highly valued. In case things don't work well these are also being discussed during key group time, and solutions will be tried to figure out together as well, such as how to be treaten fair if behavior issues turn into wrong (as mentioned above).
As it is said in "The Art and Science of Teaching", Chapter 7, page 134:
"One of the conclusions is that a combination of positive and negative consequences appears to be the optimum approach. This conclusion is echoed by
Miller, Ferguson, and Simpson (1998) in their review of the research literature:
"Clearly, the results of these studies should permit schools to strike . . . a 'healthy
balance' between rewards and punishments" (p. 56).
It is important to note that the topic of positive and negative consequences
is a controversial one, at least as played out in the literature. [1]"
I have also observed that students start interacting strange if I start praising them for things they usually do right anyway. So, for me it is a daily balance to keep the little ones on track in supporting them through voice, words and activities positively to make the class run smoothly. I also interact if there is a child being disruptive; first I try to planful ignore this but if it gets to difficult I interact by getting them into 'time out', talking to them calmly, or giving them some kind of attention they do need just right now.
This is the link I created related to the topic: 'How to best support students having behavior issues in class'
https://www.lucidchart.com/invitations/accept/bcd17be8-b00f-47c4-8797-6c743950974c
[1] Print Products Classroom Instruction That Works: Research Based Strategies for Increasing Student Achievement by Robert J. Marzano, Debra J. Pickering, Jane E. Pollock (#101010) Classroom Management That Works: Research Based Strategies for Every Teacher by Robert J. Marzano, Jana S. Marzano, Debra J. Pickering (#103027) Grading and Reporting Student Learning by Robert J. Marzano and Tom Guskey (Professional Inquiry Kit; # 901061) A Handbook for Classroom Instruction That Works by Robert J. Marzano, Jennifer S. Norford, Diane E. Paynter, Debra J. Pickering, Barbara B. Gaddy (#101041)